SANDENIT SW300 is adhesive suitable for fixing of thermo-insulation polystyrene boards.
APPLICATION:
For fixing of thermo-insulation polystyrene boards (extruded polystyrene) on solid façade surfaces..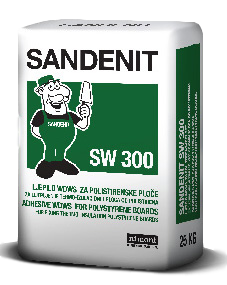 TEMPERATURE OF SURFACE AND AIR:
+8°C do +25°C.
AIR HUMIDITY:
max. 80%.
OPEN WORK TIME:
min. 20 minutes.
RECOMMENDED CONSUMPTION TIME:
in 1,5-2 hours. Possibility of fixing corners and inserting reinforcing fiberglass mesht after cca. 24 hours.
CONSUMPTION:
cca. 4-5 kg/m2 for fixing boards depending on surface.
SURFACE:
Surface need to be solid, dry, clean, supporting, not frozen, without cracks and residues of old oil or colour. Imperfections on surface that are over 5mm, fill previously with cement-lime mortar.
PREPARATION:
Mix the adhesive in bucket with clean water. Mix 1 kg of adhesive with cca. 3,5 dl of water to complete homogenization. Leave adhesive to sit about 15 minutes and stir again to get proper density. Do not add any additive in the adhesive.
FIXING:
Apply adhesive across the middle and alongside the edges of the boards under the angle of 45° from the external side and press gently the board on the surface. Adhesive can be applied on the board mechanically– strips alongside the edges and 2-3 strips across the middle.
IMPORTANT:
Between joints of boards there shouldn't be any adhesive, because it causes thermal bridges. Joints to 2mm fill with silicone and PU foam, over 2mm with polystyrene strips.
STORAGE:
Upto 12 months in conditions prescribed for storage of cement.
PACKAGING:
Bag 25 kg.
TESTING:
Kasem company limited performs regular tests of its products in certified laboratories. This guide is the product of our knowledge and previous practical experience and it should serve all users as a recommendation for the best results in work. If the weather and other conditions are different from those in our instructions, it is necessary to take our instructions as a general guideline, with no warranty for installation. Kasem company limited assumes no responsibility for any damage caused by improper use or improper product selection, as well as for poorly executed work. It is assumed that the user mastered the techniques of installation and use of various products.