SANDENIT KS200 is dry building adhesive suitable for fixing ceramic tiles indoors. SANDENIT KS200 is made of hydraulic binders, mineral fillers and additives. It is easy to prepare with fast and efficient installation.
PREPARATION:
Mix the powder with water to needed consistency in approximate relation 3:1 (3 parts of SANDENIT KS200 and 1 part of water), manually or with electric drill (stirrer)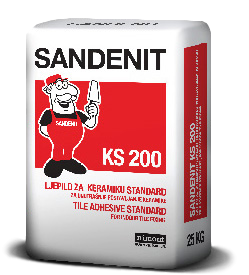 Allow mixed material to sit undisturbed for 15 min, and remix it finally.
OPEN WORK TIME:
of properly prepared adhesive is 4 hrs.
SURFACE PREPARATION:
Surface need to be clean, solid and dry.
APPLICATION:
Apply SANDENIT KS200 on wall and floor surfaces with metal square-notch trowel. Press tiles into adhesive and gently fix them. Position of tiles can be changed during 10 minutes without changing adhesivity. After adhesive is hardened, wash tiles with water and fill joints with tile grout.
WORK TEMPERATURE:
from +10 0C do +30 0C.
CONSUMPTION:
3-4 kg /m2.
EXPIRY DATE:
12 months in original packaging in dry and airy rooms.
PACKAGING:
Bag 25 kg.
TESTING:
Kasem company limited performs regular tests of its products in certified laboratories. This guide is the product of our knowledge and previous practical experience and it should serve all users as a recommendation for the best results in work. If the weather and other conditions are different from those in our instructions, it is necessary to take our instructions as a general guideline, with no warranty for installation. Kasem company limited assumes no responsibility for any damage caused by improper use or improper product selection, as well as for poorly executed work. It is assumed that the user mastered the techniques of installation and use of various products.