SANDENIT MN 1900 is prepared mortar made of hydraulic binders, mineral fillers and additives, suitable for mechanical and manual mortaring of internal and externall wall surfaces. It can be used on walls made out of concrete , bricks , siporex blocks and natural stone
SURFACE PREPARATION:
before applying mortar clean the surface from impurities and dust and remove oil residues. Absorbing surfaces prepare with suitable beton contact. Polished and low absorbing surface treat with beton contact.For surfaces made out of bricks where joints are deep, fill them before.
PREPARATION AND APPLICATION:
mix dry powder with water in approximate relation 3.5:1 (3.5 parts of SANDENIT MN 1900 and 1 part of water)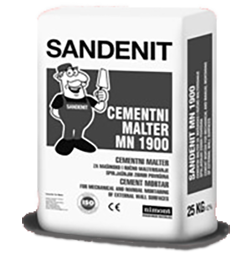 or to needed consistency. Mix with stirrer or manually to complete homogenization. Apply mortar manually and flatten it immediately with aluminum H lath. When material is partailly dry, remove excess material and open mortar with scarper or T lath. After opening, wet the row surface and parget it to achieve final look. Minimal thickness of mortar layer is 1cm. When thickness bigger than 2 cm is needed , apply morta in 2 layers in intervals , but before the first layer is dry. Protect mortar from rapid drying after the mortar is dry (minimum 1 days for entry cm of thickness) continue with further treating
WORK TEMPERATURE:
from +10C to +25C referring to air temperature and working surface temperature.
CONSUMPTION:
approximatelly 13-14 kg/m2 for flat surfaces.
EXPIRY DATE:
6 months in original packaging in dry and airy rooms.
PACKAGING:
Bag 25 kg.
TESTING:
Kasem company limited performs regular tests of its products in certified laboratories. This guide is the product of our knowledge and previous practical experience and it should serve all users as a recommendation for the best results in work. If the weather and other conditions are different from those in our instructions, it is necessary to take our instructions as a general guideline, with no warranty for installation. Kasem company limited assumes no responsibility for any damage caused by improper use or improper product selection, as well as for poorly executed work. It is assumed that the user mastered the techniques of installation and use of various products.